Opu Needles
Manufactured from steel of excellent quality, its triple cut blade provides a fast puncture, minimising damage to the ovarian tissue.
Its "Thin Wall" design allows the same internal aspiration diameter to be maintained with needles of a smaller external diameter, thus reducing the risk of bleeding and lesions for the patient, improving their recovery time.
Our range of diameters, the largest on the market, offers ideal options for working with patients with low response in natural cycles, allowing the follicular aspiration to be carried out without anesthetic with the smallest diameters.
Embryo Transfer Catheters
Kitazato offers a wide variety of embryo transfer catheters capable of covering any need under any circumstance.
Our products
Designed following the advice of the most reputed gynaecologists, EC-PRO catheters offer control, visibility and smoothness to minimise trauma to the patient and maximise embryo implantation.
Thanks to its 30º curve and its characteristic flexibility, the Kitazato Precurved Catheters provide an easy and atraumatic navigation through the cervical channel in any kind of anatomy. Its visibility under the ultrasound machine improves positioning and precision during the embryo transfer.
Leja Slides
Leja slides are high quality disposable counting chambers especially made for semen analysis. The Leja slides have an excellent low limit of quantification and can handle high sperm concentrations. Due to its characteristics, Leja slides will save time performing a semen analysis, as well as increase the level of accuracy and precision. During the production process there is a continuous quality control of the slides (chamber depth between defined limits, no air bubble formation during filling and not toxic for boar semen). A certificate of analysis is provided with all slides. Leja slides are suitable for human as well as animal reproduction. Delfran keep stock of the following products:
SPERM COUNT : SLIDES
Article Code
Nr of Chambers
Height in micron
Height Deviation
SC 20-01-02-B
2
20
10%
SC 20-01-04 B
4
20
10%
SC 20-01-08 B
8
20
10%
SC 20-01-02-C
2
20
10%
SC 100-01-02 A
2
100
5%
SC 100-01-02 B
2
100
10%
The following products will be ordered on request.
| | | | |
| --- | --- | --- | --- |
| Article Code | Nr of Chambers | Height in micron | Height  Deviation |
| SC 20-01-02-C | 2 | 20 | 10% |
For more information click here
IVF GEN is an Australian brand of IVF laboratory disposables. Since its introduction, IVF GEN has gained one of the fastest acceptance & growth and now has distributors across several regions of the world representing its products. IVF Gen supplies products to Australia-Pacific and have established its brand presence in the markets of Asia, Africa, Middle East and rest of the world. All IVF Gen products are registered with Australian Register of Therapeutic Goods with a certificate of approval to supply from the regulatory authority, Therapeutic Goods Administration (TGA) Australia.
All our products are:
• Manufactured under ISO 9001 & ISO 13485 certified facilities & 100,000 grade clean room guarantee quality
• MEA tested with Certificate of Analysis for each lot (except vials & containers)
• Non-pyrogenic with endotoxin ≤ 0.25 EU/ml
• Dnase & Rnase Free
• Sterile (R) with gamma irradiation
• CE marked in accordance with European Directive 98/79/EC
• TGA approved & ARTG registered in Australia
Centrifuge Tubes (MEA Tested)
Serological Pipettes (MEA Tested)
Culture Tubes 4ml (MEA Tested)
Culture Tubes 12ml (MEA Tested)
Transfer Pipette (MEA Tested)
Petri Dishes (MEA Tested)
OOSAFE® DISINFECTANT FOR CO2 INCUBATORS AND LAMINAR FLOW HOODS (FOR IVF LABORATORY)
Safe disinfection of CO2 incubators, laminar flow hoods, glass, plastic, metal, Hi-Macs surfaces, equipments, ultrasound probes and hospital furnitures.
Oosafe® IVF Laboratory Disinfectants are designed for IVF laboratory use.
Bactericide, fungicide (Candida), algicide and selectively virucide.
Each lot is MEA and HSSA tested.
No alcohol, no smell, no VOC release.
Oosafe®  IVF Laboratory Disinfectants can be used until expiry date even after opening the security seal of the bottle.
Each disinfectant has security seal which serves:
a-Safe transportation: No spill while in transportation.
b-Quality Assurance: No external factor, you are the first person opening the bottle.
IVF use approved by scientific studies and customer feedback.
Oosafe® IVF Laboratory Disinfectants have been used by leading IVF clinics in more than 100 countries.
Long shelf life, expire 3 years after manufacturing.
OODIH-1000 – Incubators & Flow Hood (1 liter)
 OODW-70 – Wipes (70 wipes)
 OODSF-02000 – Lab Surface Disinfectant  2 Liter
 OODH-0500 – Hand Disinfectant w pump 500ml
OOSAFE® FILTERS
Oosafe® Filters are an inline filters used in between CO2 incubators and gas sources to purify incoming CO2, N2 and premixed gas against Volatile Organic Compounds (VOCs), Chemically Active Compounds (CACs), bacteria, odor, dust and more.
Unmatched VOC Removing Capacity: Micro Carbon Technology provides bigger activated carbon surface area and uniform gas flow through filter, resulted in extremely high amount of VOC purifying capacity for longer time period.
Better Gas Quality, Better Embryo Development:Purified CO2 N2 and premixed gas results in better emryo development because embryos have no immune system.
VOCs and Bacteria: As a result of the composition of pure activated carbon and HEPA filter, beside long term VOC removing capacity it also trap bacteria for 3 months.
High Quality: Manufactured and tested in Clean Room Envinroment according to cGMP under strict rules for IVF use.
Pure Materials for IVF use: Capsule and inside materials are safe to use in IVF laboratories.
Approved by Scientists: Oosafe® Filter has been used for many years in well-known IVF clinics all over the world as the gas purification tool.
No Chemicals Inside: No chemicals used inside, chemicals may have negative effect on embryo development.
Quality Control: Each filter is tested in Clean Room Environment with Automated Quality Testing Device which eliminated human errors.
Packing: Each filter is individually packed and served as four pieces in a sealed cardboard box including Certificate of Conformity and Instructions for Use.
AS851585 – 01 – OOSAFE  Inline Filters (replace every 6 months)
OOFST –  01 – OOSAFE  ST Inline Filters (Sterile & replace every 6 months)
OOSAFE® IVF TESTED PLASTICWARE FOR IVD USE
Top quality plasticware is approved by scientists and supported by the test results for each lot.
Made of Medical Grade USP VI Tested Raw Materials: Polystyrene (Dishes) and Polypropylene (Sperm Collection Cup and Centrifuge Tube)
One cell Mouse Embryo Assay Tested (MEA ≥ 80 % Blastocyst)
Non-pyrogenic, Endotoxin Tested (LAL ≤ 0.03 EU/mL)
Human Sperm Survival and Motility Tested (SMI ≥ 0.75)
Excellent Thermal Transfer on Heated Stage
Sterile with Gamma Irradiation
Manufactured and Sterilized in ISO 9001 and ISO 13485 Certified Facility
CE marked
OOSAFE® 4 WELL DISH TREATED SURFACE
OOPW-FW03S – 4 Well  (1 x 4)
OOSAFE® 100 MM DISH
OOPW-HD10S – 100mm dish  – (1  x 10)
OOPW-HD10B – 100mm dish  – 1 x  (25  x 10)
OOSAFE® 6 WELL DISH WITH STRAW HOLDER (NON-TREATED SURFACE)
OOPW-SW03S – 6 Well dishes wpf straw (1 x 4)
OOSAFE® CENTER WELL DISH WITH TWO COMPARTMENTS, LABEL AREA GRIP
OOPW-CW05S – Centre well – (1 x 10) 
OOPW-CW05B – Centre well – 1 x (50 x 10)
OOSAFE® 35 MM DISH, HIGH WALL
OOPW-TF03S – 35mm High Wall  dish  (1 x 10)
OOSAFE® ICSI/IMSI DISH FOR SPERM SELECTION
OOPW-IC03S – ICSI / IMSI Dish (1 x 10)
OOPW-IC03B – ICSI / IMSI Dish 1 x  (50 x 10)
OOSAFE® 60 MM DISH - LABEL AREA GRIP
OOPW-ST03S – 60mm dish  (1 x 10)
OOPW-ST03B – 60mm dish 1 x (50 x 10)
CellVision is a young, innovative company based in the Netherlands. We are constantly trying to improve and implement new techniques in our production process to optimize our products and their applications. Our patented techniques are applied in various industrial production processes.
Why use Cellvision?
Easy to use 
Fill & Count glass slides with separate counting chambers and a fixed coverslip. Our slides fitted with counting grids have the same dimensions and identical image as re-usable hemocytometers. Also available without built-in grid for CASA systems.
Hygienic
Eliminates non-hygienic and time consuming cleaning procedures associated with re-usable counting devices. Reduces the risk of exposure to potentially infectious material
Accurate
Precise fixed depth counting chambers with superior accuracy and reproducibility at a very comfortable price level.

CV1010-2CV – 10 µm , 2 chamber  (1 x 25)
CV1020-2CV – 20 µm , 2 chamber  (1 x 25)
CV1100-2CH – 100 µm , 2 chamber  (1 x 25)

CV1010-4CV – 10 µm , 4 chamber (1 x 25)
CV1020-4CV – 20µm , 4 chamber (1 x 25)
CV1100-4CH – 100µm , 4 chamber (1 x 25)

CV1010-102 – 10 µm , 2 chamber with grid (1 x 25)
CV1020-102 – 20 µm , 2 chamber with grid (1 x 25)

CV1020-PV (post vasect) – 20 µm , 2 chamber with grid (1 x 25)
MICRO TOOLS FOR INTRACYTOPLASMIC SPERM INJECTION (ICSI)
V-ICSIPET-HOLDING pipette is used for fixation of the oocyte and V-ICSIPET-INJECTION pipette for the mechanical intracytoplasmic injection and is manufactured under ISO class 7 cleanroom standards. We are stringent with quality parameters, only micropipettes that pass the strict quality standards are released as final product.
PRODUCT FEATURES
Manufactured from high quality borosilicate glass capillaries
Specially designed to avoid damage to oocyte during manipulation
Experienced embryologists developed and supervised each step of production
A clear color coded and easy to use packaging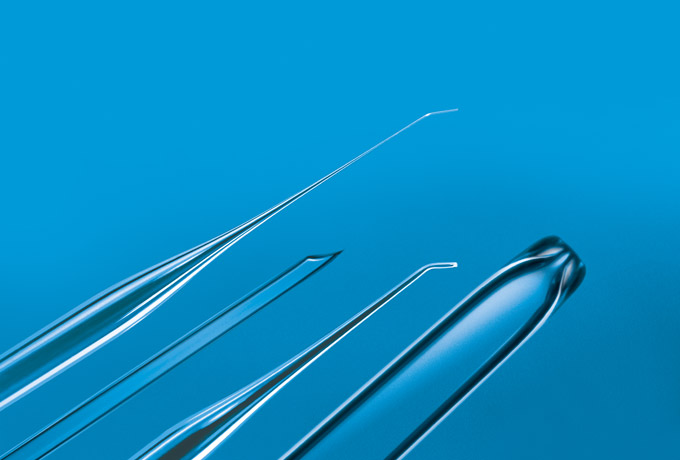 HOLDING PIPETTE
 V-HOLD-30 – V-ICSIPET HOLDING 30 Degrees ID  20 µm  (1 x 10)
V-HOLD-35 – V-ICSIPET HOLDING 35 Degrees ID  20 µm  (1 x 10)
V-HOLD-35 – V-ICSIPET HOLDING 35 Degrees ID  20 µm  (1 x 10)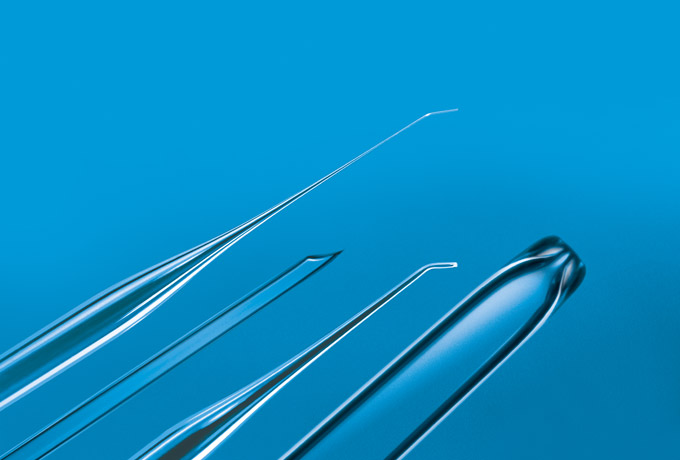 INJECTION
V-INJ-S3-30 – V-ICSIPET injection 30 degrees ID  5 µm  (1 x 10)

V-INJ-S3-35 – V-ICSIPET injection 35 Degrees ID  5 µm  (1 x 10)
V-INJ-S3-35 – V-ICSIPET injection 35 Degrees ID  5 µm  (1 x 10)
Precise microtool for denuding and pipetting of Oocytes and Embryos
V-DENUPET is one of the most precise microtools for the manipulation and transfer of oocytes and embryo. With German engineering precision, we guarantee our clients the best quality. V-DENUPET manufactures under ISO class 6 cleanroom standard. Since we are stringent with quality parameters, manufacturing process is controlled at 5 stages.
Product features
Made out of high medical grade polymers which gives it flexibility and enables easy handling and avoids scratches on the petri dishes
As the product guarantees accurate sizes, it minimizes the risk of oocyte degeneration
Different color codes for easy identification of the sizes
Packed as 5x 10 pipettes
Gamma sterilized
MEA and LAL tested
Human Sperm Survival Assay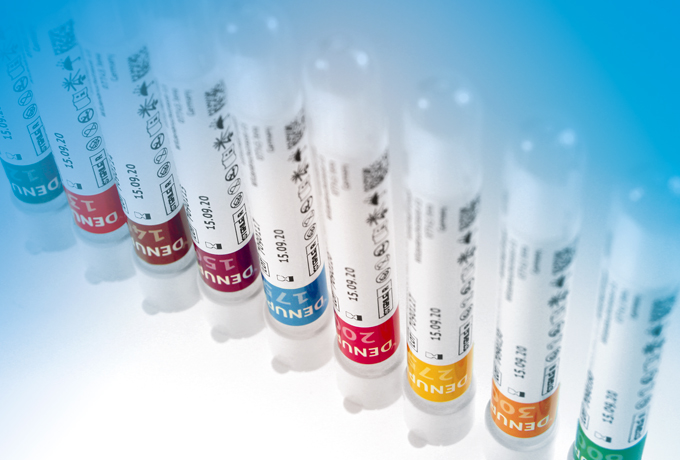 V-DENUPET
 V-DEN- 135 – V-DENUPET (1 x10) (Red top)
V-DEN- 175 – V-DENUPET (1 x10) (Blue top)
V-DEN- 275 – V-DENUPET (1 x10) (Yellow top)
V-DEN- 300 – V-DENUPET (1 x10) (Orange top)
The SOFT DENUDATION TIP is a single-use micropipette used for oocyte manipulation, blastomer or polar body manipulation, embryo handling or denuding.
The SOFT DENUDATION TIPS are made from flexible medical plastic and are nearly unbreakable to avoid scratch surface or break.
The tip is precise straight cut off to fit your
application.
There are a lot of different sizes available.
The SOFT DENUDATION TIPS are compatible
with most popular used micropipettors.
V-DENUPET
 447135 – Tips 135  (Yellow Top) (1 x 10)
47145 – Tips 145 (White Top) (1 x 10)
447175 – Tips 175 (Red Top) (1 x 10)
447275 – Tips 275  (Grey Top) (1 x 10)
Sunlight Medical manufactures and supplies a complete line of micropipettes for in vitro fertilization (IVF) procedures such as intracytoplasmic sperm injection (ICSI), embryo biopsy, assisted hatching, and other related procedures. Sunlight Medical also manufactures microtools for research applications and for micromanipulation of non-human gametes and embryos.
Holding Pipettes
SHP-120-30 – Holding Pipettes 30 Degrees ID  20 µm  (1 x 10)
SHP-120B-35 – Holding Pipettes 35 Degrees 25 µm ID (1 x 10)
ICSI Injection Pipettes
SIC-50V-30L – Injection Pipettes 30 Degrees ID 5 µm / 1 mm (1 x 10)
SIC-50V-35L – Injection 35 Degrees ID 5 µm / 1 mm (1 x 10)
SIC-50V-30W – Injection 30 Degrees ID  (1 x 10)
Biopsy Pipettes
SBB-35Z-30 – SUNLIGHT BLAST/TROPH Biopsy 30o Bevel 40 Degrees (Right) ID 35 µm (1 x 10)
SBB-20Z-30 – SUNLIGHT BLAST/TROPH  Biopsy 30o Bevel 30 degrees (Right) ID 20 µm (1 x 10)
SBB-25Z-30 – SUNLIGHT BLAST/TROPH  Biopsy 30o Bevel 30 Degrees (Right) ID 25 µm (1 x 10)
Zona Drilling Pipettes
SZD-10-30 – Zona Drilling  30 Degrees ID 8- 10 µm / 0.55mm (1 x 10)